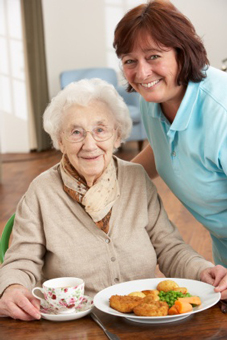 Surrey/North Delta Meals on Wheels (SNDMOW) is a volunteer community service that delivers freshly prepared, ready to heat, nutritious meals to recipients' homes between 10:30am and 1:00pm, Monday through Friday.
This service is available to anyone who, by reason of age, physical or mental handicap or illness, cannot prepare adequate meals for themselves. For more information regarding the meals themselves, please visit our Meals Page.
We need volunteers! If you can spare one day a week to help deliver meals, please contact us. For more information about volunteering, please visit our Volunteer Page.
If you cannot volunteer your time, you can always help support us through donations. Meals on Wheels is supported by donations from the community. All donations are tax deductible. For more information about donating to our program, please visit our Donate Page and to view the list of our supporters, please visit the Our Donors Page.
We are registered with the Veterans Affairs Canada, who may provide financial assistance to Veterans.
To download or print out a copy of our latest brochure, click here.
For coming events, click here.