---
Bringing Nutritious Meals Right to Your Door!
Surrey-North Delta Meals on Wheels is a volunteer community service that provides nutritious meals Monday to Friday to anyone who, by reason of age, physical or mental handicap or illness, cannot prepare adequate meals for themselves. Surrey-North Delta Meals on Wheels has been serving the community since 1970. Nearly 100 people – seniors, people with disabilities, low-income individuals and people recuperating from surgeries – rely on Meals on Wheels to deliver fresh meals each weekday. With an aging population, demand for the service is expected to continue. Last year our volunteer drivers delivered over 24,000 meals and bagged lunches to our clients! In addition to providing a fresh nutritious meal, our volunteers also offer the comfort and reassurance of a daily informal visit and check-in on the safety and well-being of all our meal recipients.
**We are also registered with Veterans Affairs Canada, who may be able to provide financial assistance to Veterans **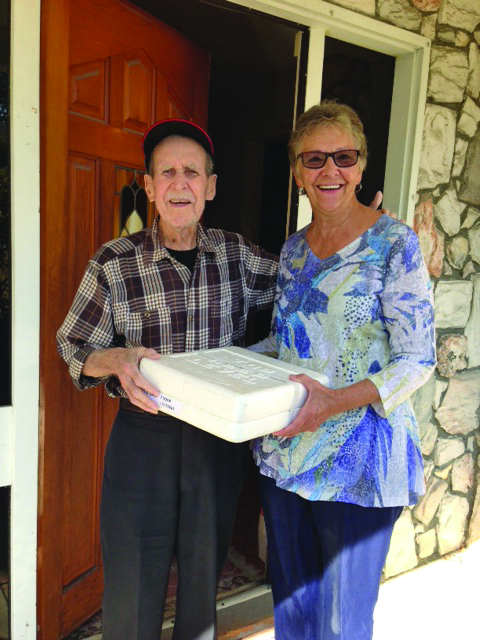 ---
Our clients are loving their new meals from Canuel Caterers!
– Great Quality and Quantity
– Nutritious and Delicious
– Made with Seniors in Mind for our Clients
---
Seniors are Struggling
View more facts here…
---
Explore Our Ways To Give
Monthly Giving is way for you to support us all year round, make bigger impacts in our community and gives us more time to focus on our mission!
Donations can be made by credit card using the Donate Now button at the top of this screen. Cheques can be received by mail and e-transfers can be sent by email!
Become a Fundraiser! Raise funds to celebrate your birthday or get your coworkers, friends or family involved in something you care about. There are a million reasons to help out in your community!
Mutual Funds, Securities and Cryptocurrency! Thanks to CanadaHelps.org we can accept these donations as well. Keep us in mind when planning for the future!
Volunteer with us! We are always looking for new members to join our team of volunteer drivers!
---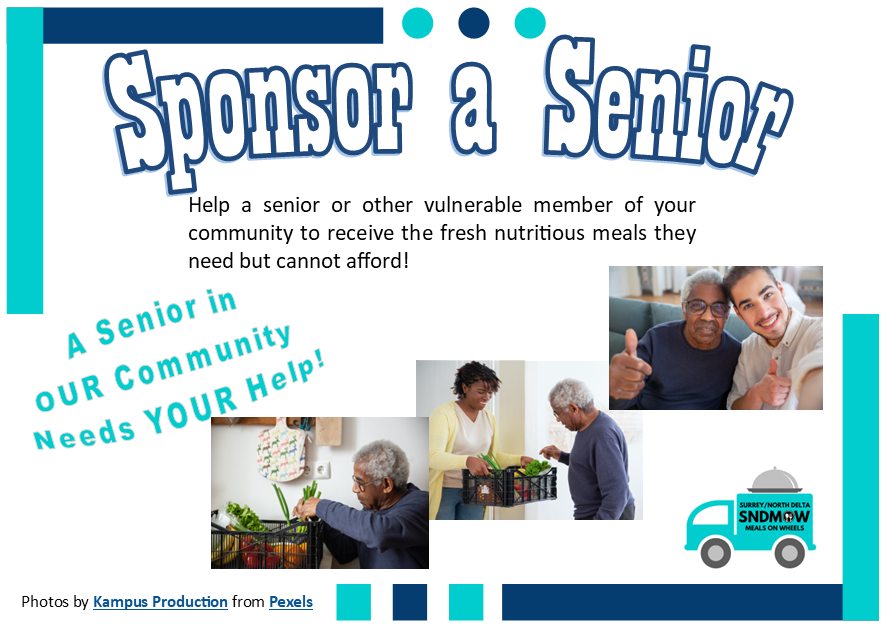 Our Sponsor a Senior Program has been designed to help the most vulnerable members of our community receive the fresh, nutritious meals they need but can't afford! Many of the residents in our catchments who require our service – seniors, disabled, immunocompromised and others – cannot afford our meals and are in need of help from the community. With this program, we make it easy for you to help one (or more) vulnerable members of our community receive these meals.
Click here for more information and become a Sponsor today!
---

Our Newsletter
Check out our Newsletter, The Bright Side, to find out what is happening at SNDMOW!
Our Blog
Check out our Blog for seniors health related tips!

---