Bringing Nutritious Meals Right to Your Door!
Surrey-North Delta Meals on Wheels is a volunteer community service that provides nutritious meals Monday to Friday to anyone who, by reason of age, physical or mental handicap or illness, cannot prepare adequate meals for themselves. Surrey-North Delta Meals on Wheels has been serving the community since 1970. Nearly 100 people – seniors, people with disabilities, low-income individuals and people recuperating from surgeries – rely on Meals on Wheels to deliver fresh meals each weekday. With an aging population, demand for the service is expected to continue. Last year our volunteer drivers delivered over 24,000 meals and bagged lunches to our clients! In addition to providing a fresh nutritious meal, our volunteers also offer the comfort and reassurance of a daily informal visit and check-in on the safety and well-being of all our meal recipients.
**We are also registered with Veterans Affairs Canada, who may be able to provide financial assistance to Veterans **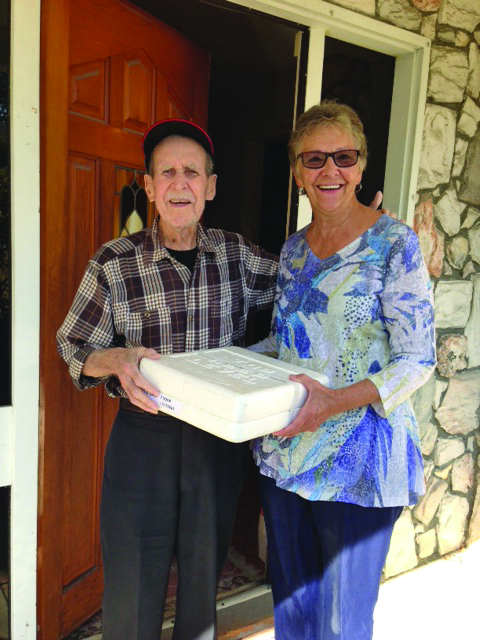 Our Meals
We provide freshly prepared, ready to heat, nutritious, home-delivered meals to people living in Surrey and North Delta. Meals are delivered Monday through Friday between 10:00am and 1:00pm. There are no deliveries on statutory holidays. All of our meals meet the Canadian Food Guidelines. We are able to accommodate special dietary requirements such as food allergies, renal diets, low sodium and pureed diets. To learn more or to Register click here.
Volunteer Opportunities
Volunteers are the cornerstone of Meals on Wheels, without them our service would not be possible! We are always looking for new volunteers to deliver our nutritious meals to our clients, whether it's on a weekly or relief basis. Drivers must possess a valid Class 5 driver's license, must be able to read and follow road maps, and will be reimbursed $0.80 per kilometer travelled for vehicle expenses. To learn more or to Apply click here.
Donations
We are supported by donations from the Surrey and North Delta communities, and are grateful for any contributions that are made. Your donations help those that built our communities, receive the nutritious meals they need and cannot make for themselves! A tax deductible receipt will be issued to any individual or company that donates to our service. For more information click here.
---
Sponsor a Senior Program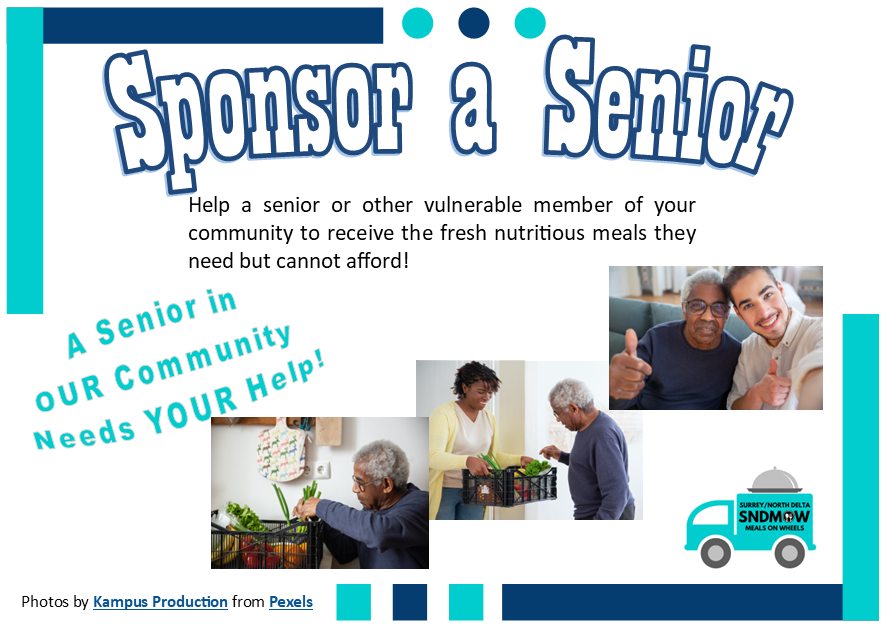 Our Sponsor a Senior Program, has been designed to help the most vulnerable members of our community receive the fresh, nutritious meals they need but can't afford! Many of the residents in our catchments who require our service – seniors, disabled, immunocompromised and others – cannot afford our meals and are in need of help from the community. With this program, we make it easy for you to help one (or more) vulnerable members of our community receive these meals.
Click here for more information and become a Sponsor today!
---
Our Blog
Check out our blog for Senior Health related tips!
---